Waggin Tails and Catz 2 is closing as of 12/31/22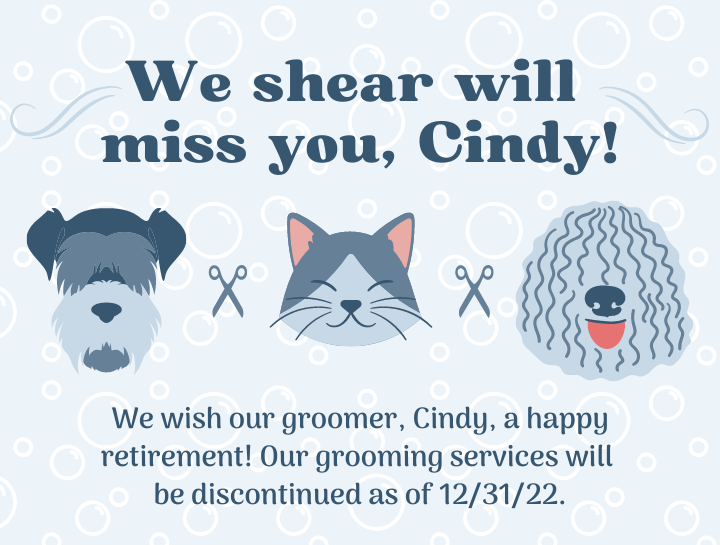 October 13, 2022
Our grooming salon services will be discontinued as of 12/31/2022 as our wonderful groomer, Cindy will retire.
Cindy began her career in September 1994, working as a young kennel attendant at Ridge Animal Hospital. As her experience grew, Cindy added assisting the technicians and grooming the patients to her work day. She put in time at both of our facilities whenever help was needed, but eventually ended up at our Lockport hospital. Her fellow co-workers often referred to her as the "dog whisperer", as she had the ability to handle and make friends with the most challenging and temperamental patients.
Perhaps grooming was her natural calling, as in 2005 Dr. Monti opened the Waggin Tails and Catz 2 Grooming facility. It was across the street from Wrights Corners Animal Care and staffed solely by Cindy. Over time, she established a loyal clientele that afforded her full-time work doing what she enjoyed. She quickly became well known as one of the few groomers in the area who would groom cats.
Cindy's retirement will surely leave a hole in the grooming community, but she is looking forward to the next chapter of her life. Cindy enjoys traveling, both to the east coast beaches and to the mountains of West Virginia.
We wish Cindy all the best and a very happy retirement.